Pan-European exhibition - Taranto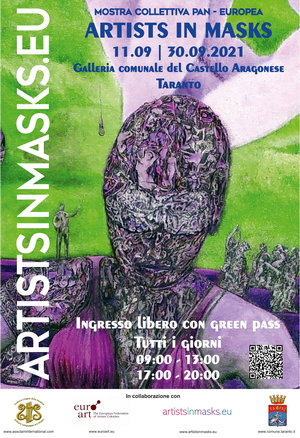 Initially scheduled from January 2nd to 23rd, 2021 at the gallery of the organization
C.L.A.M. International in Taranto, Italy
,
this exhibition will open on September 11th 2021!
Art at the time of COVID-19 has been more than ever an expression of the subject who has individually found reasons to create.
The artist who relates to the natural elements in which he finds a source of inspiration, who investigates and interprets the human soul, has had to deal with isolation and restrictions and has dug into the hidden memories in the depths of his own home.
Behind the mask of creativity, they have tried to exorcise the discomfort of loss of freedom, the pain of illness, the suffering of loved ones' death, with the representation of fears, of uncertainties and challenges, of sharing or escaping from reality.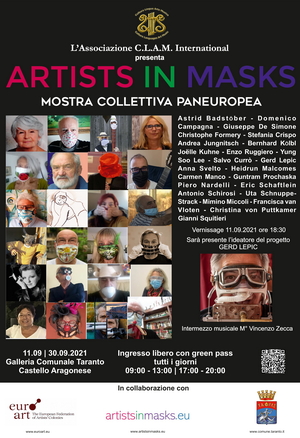 We all have forcibly given ourselves the time to get in touch with dimensions of our inner selves that we had kept dormant and we have faced moments of great uncertainty, looking for answers to questions and learning to manage virtual reality with different rhythms and strategies.
This
ARTISTS IN MASKS
exhibition also had to accept the rules of the game and made the obligatory path of presenting itself to the world in a real way for a short period, but above all virtually, with a beautiful exhibition which took place in Germany in Spring 2021, curated by
Gerd Lepic
, creator of the Artists project proposal
ARTISTS IN MASKS - pan-European collective
and
Eric Schaftlein
, photographer and developer of the digital project.
Now Artistsinmasks becomes an even more real event and this exhibition testifies to the solidarity and collaboration of 24 European artists, who finally meet after the restrictions due to Covid-19 and are committed to starting a program of projects throughout Europe
Thanks to the commitment of all of us, the
C.L.A.M. international of Taranto
and
artistsinmasks.eu
, this exhibition enjoys the support of institutions which recognize its meaning and value.
Our thanks go to:
-
euroArt - European federation of artists' colonies
which has decided to support the exhibition in Taranto as it is consistent with the objectives of promotion, development and enhancement of the initiatives of the community of artists in Europe.
-
Municipality of Taranto
who wanted to participate in the realization of this exhibition with the space of the
Municipal Gallery of the Aragonese Castle
, a building that tells a lot of the history of Taranto and Europe

Francesca Di Ponzio
Curator
Visit ARTISTS IN MASKS in Apulia: Ass. C.L.A.M. International - Cultura, Lingue, Arte, Musica - Via Pisanelli, 9-11, 74123 - Taranto (
assclaminternational.com
).